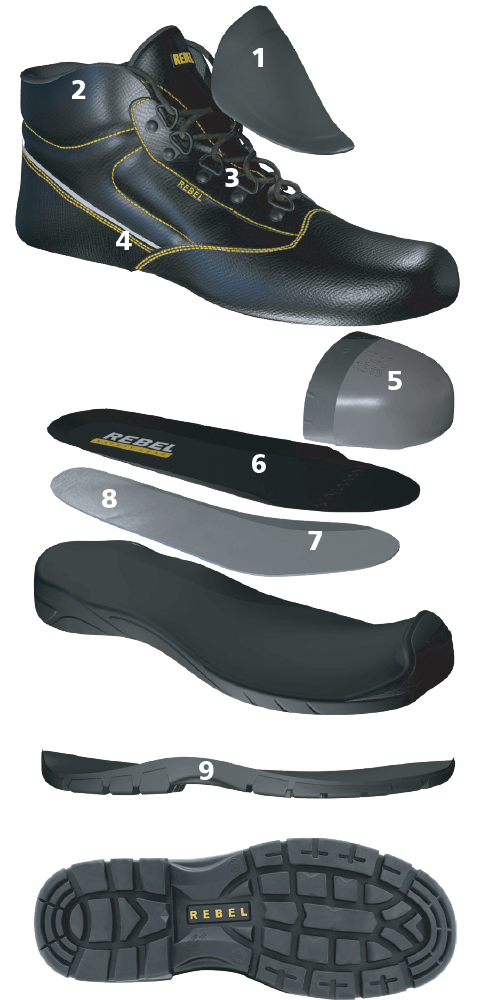 Please note that this illustration features a combination of the different technologies used in various REBEL Safety Gear products; to identify which of these and other technologies feature in any product you are interested in, please see their individual product pages and their associated technical sheets for a complete breakdown.
1. REBEL metatarsal guard
Metatarsal guard to protect upper foot from falling objects.
2. REBEL uppers
High quality, premium grade upper materials include:
Full grain leather (Barton print/Nubuck/smooth waxy leather)
Breathable suede and mesh
Easy cleaning microfiber
Water resistant leather
3. REBEL footwear fastening
Lace-up
Easy to fit Velcro fastening
Easy to fit zip up
Easy to fit slide-on
Rustproof, brass D-rings
Quick release snap buckle
4. REBEL inner linings
Quality abrasion resistant, moisture wicking linings include:
Taibrelle – moisture wicking lining moving sweat away from the foot
Hydroseal – 100% waterproof lining, keeping the foot dry
Hygienic – antibacterial properties
5. REBEL toe cap
All REBEL safety toe caps are tested to an impact resistance of 200 Joules.
Non-metallic, EN approved composite toe cap
Wide profile, EN approved steel toe cap
SABS and EN approved
6. REBEL foot bed
Hygienic removable and replaceable, cushioned innersole with anti-microbial and anti-static properties
Ultra comfortable platinum footbeds also available in individual packs
7. REBEL insole stability board
Biagioli IBITECH 2mm in-sole board
8. REBEL anti-penetration
Anti-penetration options available in certain styles:
Steel midsole
Metal-free "zero" penetration mesh
9. REBEL outsole
Various technologically advanced outsoles available:
Dual density, polyurethane – lightweight and durable, heat resistant to 120°
EVA/Rubber – comfortable and highly durable
Nitrile rubber – 300°C heat resistance guaranteed
All REBEL soles are crack-resistant tested to 30 000 flexes
Tested for slip resistance in accordance with SANS 20345:2014 (SRA, SRB and SRC specification)
Oil and acid resistant
Cleats for climbing ladders
Anti-static properties where specified
ESD (electrostatic discharge) properties where specified